The disease caused by the infection of severe acute respiratory syndrome associated coronavirus 2 (SARS-CoV-2), also known as COVID-19, is spreading worldwide, seriously endangering human health [1-2]. Duration of viral shedding is often used as an important indicator to judge the prognosis of the disease [3]. The team of Associate Professor Miao Hongming of the Army Medical University and the team of Professor Wang Qiongshu of the Central Warfare General Hospital of P. L. A published a paper in the journal MedComm released by Wiley (https://onlinelibrary.wiley.com/doi/abs/10.1002/mco2.2. Click "Read the original" at the bottom of this article to read the original text and download PDF), which reports a case of refractory virus-positive moderate COVID-19 patient, with 49 days of viral shedding. This is the case with the longest viral positive duration reported in COVID-19 infection by the time of publication [4]. The first authors of the report are Dr. Li Tan and Post-Doctor Xia Kang, with Professor Qiongshu Wang and Associate Professor Hongming Miao serving as corresponding authors.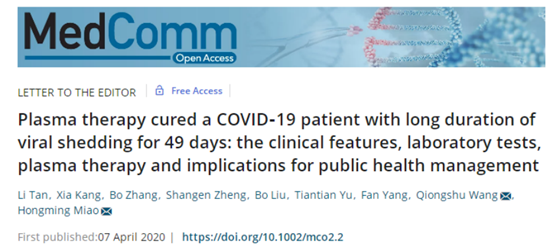 The COVID-19 patient in this paper is a middle-aged male (Case 1). With intermittent fever for one week, his body temperature returned to normal after taking antipyretics, Chinese medicine and antiviral drugs on his own, without other typical symptoms of COVID-19. After the diagnosis was made on close contacts with him, Case 1 was further examined. Upon admission, the patient had symptoms of infection in both lungs, while his vital signs and other laboratory tests were at normal levels. One week after admission, Case 1's lung infection was clearly absorbed, and the SARS-CoV-2 virus test for pharyngeal swabs remained positive without signs of other abnormalities. In view of the refractory positive virus, the patient received serum treatment of COVID-19 rehabilitation patients on the 51st day after onset. Starting the next day, the virus test of Case 1 became negative for two consecutive times, indicating that the virus was cleared (Fig. 1A).
Previous reports have shown that the average viral shedding duration of COVID-19 patients is 20 days, and the longest is 37 days. But this case is as long as 49 days [3], which suggests that the viral shedding duration of COVID-19 patients varies greatly. If serum therapy were not used, the positive virus duration of Case1 would have been longer and he would have become an asymptomatic carrier. Surprisingly, the symptoms of Case 1 remained mild to moderate, and of the six contacts, only one aged person who was in close contact (Case 2) was infected to become an ordinary patient who quickly recovered and was discharged (Fig. 1B ). This is different from the infection characteristics of most cases reported before, suggesting that the virus infection activity is weak and it may be a new subtype. However, this hypothesis needs further confirmation through sequencing.
Case 1 could quickly eliminate the symptoms and signs of COVID-19 under conventional treatment, but the virus could remain positive. After the serum treatment was given to the rehabilitation patient, the virus test quickly turned negative, suggesting that serum treatment may be very effective for refractory virus. But this is just one case to be confirmed with clinical trials of enough samples.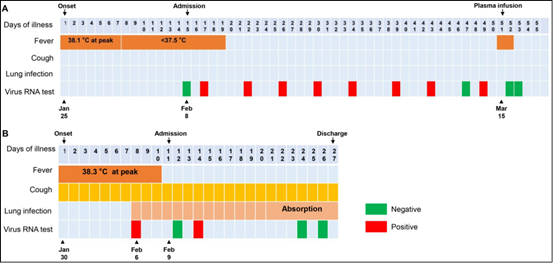 This case confirms that SARS-CoV-2 virus can coexist with patients for a long time, and patients can be free of any clinical or laboratory abnormalities, that is, asymptomatic patients. There is no definite research on the types of viruses carried by these infected persons and the extent of infection. Based on the rapidly mutating properties of the SARS-CoV-2 virus, these asymptomatic infected persons may become invisible bombs in the next outbreak. Therefore, the screening and management of asymptomatically infected persons will be a challenge that we need to focus on in the context of our staged epidemic control victory. In short, the report provides a factual basis and alarm for the clinical treatment of COVID-19 patients and public health management.
Acknowledgements to all medical staff and scientific research workers in fight against the epidemic on the frontline.
Bibliography
[1] Wu YC, Chen CS, Chan YJ. The outbreak of COVID-19: An overview. J Chin Med Assoc 2020;83:217-20.
[2] Zumla A, Niederman MS. The explosive epidemic outbreak of novel coronavirus disease 2019 (COVID-19) and the persistent threat of respiratory tract infectious diseases to global health security. Curr Opin Pulm Med 2020.
[3] Zhou F, Yu T, Du R, et al. Clinical course and risk factors for mortality of adult inpatients with COVID-19 in Wuhan, China: a retrospective cohort study. Lancet 2020.
[4] Li Tan, Xia Kang, Bo Zhang et al. Plasma therapy cured a COVID‐19 patient with long duration of viral shedding for 49 days: the clinical features, laboratory tests, plasma therapy and implications for public health management. MedComm 2020; https://doi.org/10.1002/mco2.2
Introduction to Professor Hongming Miao

Hongming Miao, associate professor and doctoral tutor of the School of Basic Medicine, Army Medical University, successively studied at Wake Forest University and University of Maryland in the United States. He has been selected as a top young talent in Chongqing and a military talent in science and technology. He is engaged in the research of metabolic immunity and tumor microenvironment. He has presided over 10 programs such as those from the National Natural Science Foundation of China. He has published a number of high-level academic papers in Nat Commun, Cell Rep, Autophagy, Cancer Res and other journals, with an accumulative impact factor (IF) of 130 points. They are cited by Nature, Cell, Science and other magazines for more than 300 times. The research group is open for post-doctors all year round. Welcome to write to him for further contact at hongmingmiao@sina.com.
Introduction to MedComm
MedComm is a full English biomedical journal published by Wiley, the largest publishing group in the United States (https://onlinelibrary.wiley.com/journal/26882663). The editor-in-chiefs are Professor James Henderson Naismith (Academician of the Royal Society and Academician of the Royal Society of Edinburgh) and Professor Wei Yuquan (Academician of the Chinese Academy of Sciences) from West China Hospital, Sichuan University. The associate editors and editors are famous scientists from over 10 countries in the world. MedComm is a peer-reviewed online open access (OA) journal that timely publishes basic research and clinical research in biomedicine, and strives to become a high-quality academic journal in biomedicine with international influence. The types of papers published in this journal include Review, Perspective, Research Article, Letter, Research Highlight, etc. A "quick passage" model is adopted for original achievements to help authors get their papers published in the shortest time, with reception procedure completed in one week at the quickest. The publication cost is waived from 2020 to 2022. In addition, the format of paper is not limited upon submission, which may be subject to modification upon formal publishing based on the requirement of the journal. With all sincerity, MedComm prepares itself for active submissions from researchers, doctors, and graduate students in biomedicine.
Cite this article
Li Tan, Xia Kang, Bo Zhang et al. Plasma therapy cured a COVID‐19 patient with long duration of viral shedding for 49 days: the clinical features, laboratory tests, plasma therapy and implications for public health management. MedComm 2020; https://doi.org/10.1002/mco2.2