Professor Masoud Mozafari from Canada Publishes a Paper on MedComm: Opportunities and Challenges of "Zeolite" in Tissue Engineering
Professor Masoud Mozafari from University of Toronto in Canada published a review article in MedComm magazine by Wiley, one of the world's largest publishing companies, which gives a systematic introduction to the unique characteristics and synthesis methods of a biologically active material called "zeolite", and summarizes the application and main research results of "zeolite" in tissue engineering [1]. The corresponding authors who completed the article are Professors Mohammad Reza Saeb and Professor Masoud Mozafari, and the first author is Payam Zarrintaj.
As an important branch and frontier discipline of emerging biomedical engineering, tissue engineering and regenerative medicine expand and apply new materials to treat the decline and loss of tissue and organ functions with a multidisciplinary approach. The development and research of tissue engineering biomaterials is the key to the development of tissue engineering, so the development of low-cost bioactive materials has become an urgent need for tissue engineering. Therefore, a unique multi-disciplinary nanomaterial family "zeolite" has become a potential candidate for tissue engineering and has therefore attracted wide attention.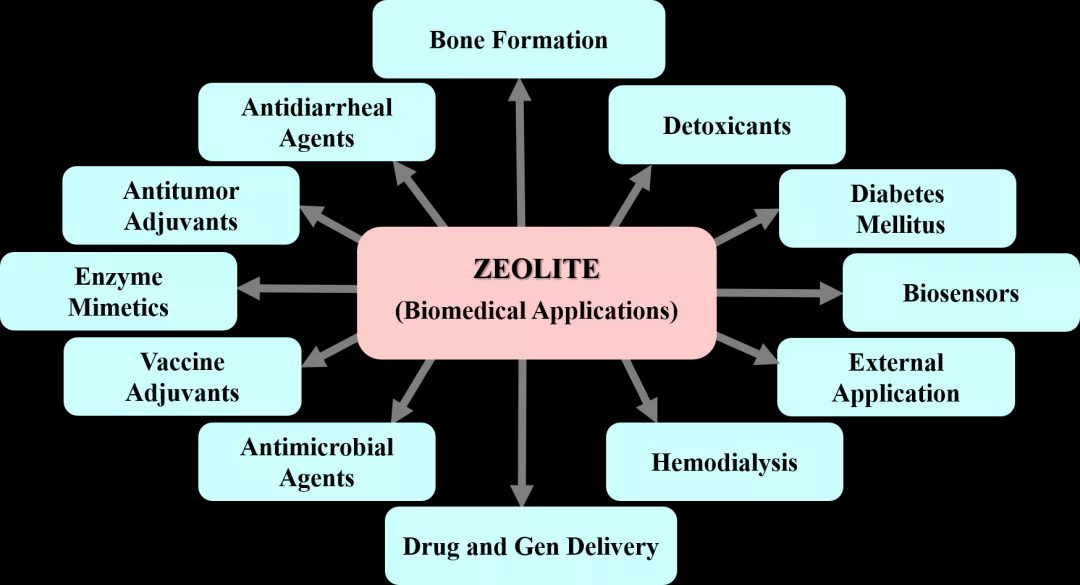 Illustration 1 A summary of the zeolite nanocrystals used in biomedical applications.
Professor Masoud Mozafari starts his paper with the introduction of the basic characteristics and synthesis methods of "zeolite". At present, various methods such as hydrothermal synthesis, solvothermal synthesis, ion thermal synthesis, F-synthesis and xerogel conversion synthesis are adopted to develop "zeolite" with unique framework, composition and property. "Zeolite" has unique physical and chemical properties such as high pore structure, ion exchange, adsorption separation, stability, chemical reactivity, reversible dehydration, etc. These characteristics make "zeolite" biocompatible, antibacterial and toxicity-free, and therefore it has become an excellent bioactive material [2], with huge application potential in medicine and biology (Illustration 1).
Figure 1Zeolite application in tissue regeneration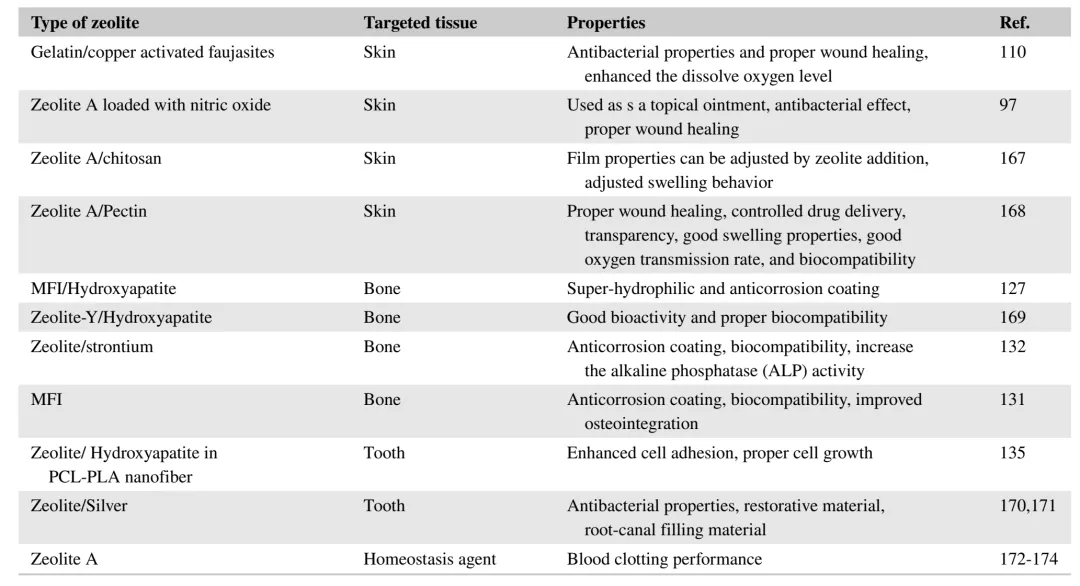 Later, the author focuses on the application of "zeolite" in tissue engineering from five aspects: skin tissue engineering/wound healing, bone tissue engineering, dental engineering, hemodialysis, and antibacterial drugs (Figure 1). "Zeolite" can promote cell growth and cell healing and regeneration. It has good hemostatic properties and plays an important role in skin regeneration (Illustration 2) [3]. Due to its selective adsorption and high porosity characteristics, it is used as an effective hemodialyzer. It can be used for bone/dental tissue engineering and scaffold materials because of its good mechanical and biological properties. It is an ideal host of antibacterial agents and can be released in an ideal way and place. In addition, "zeolite" can adsorb pollutants, bacteria and viruses, and therefore can be used in various fields from pollution removal to biomedicine. Due to its characteristics of ion exchange, it can be used as an antidote. It is used in imaging systems which serve as a diagnostic platform, and used as therapeutic equipment with therapeutic agents as well. At the same time, in order to develop pharmaceutical materials based on "zeolite", there are currently some pre-clinical and clinical studies of "zeolite", such as the impact on intestinal flora and bone health. However, clinical trials of "zeolite" materials in humans are still limited, and the role of "zeolites" in humans needs to be evaluated in depth.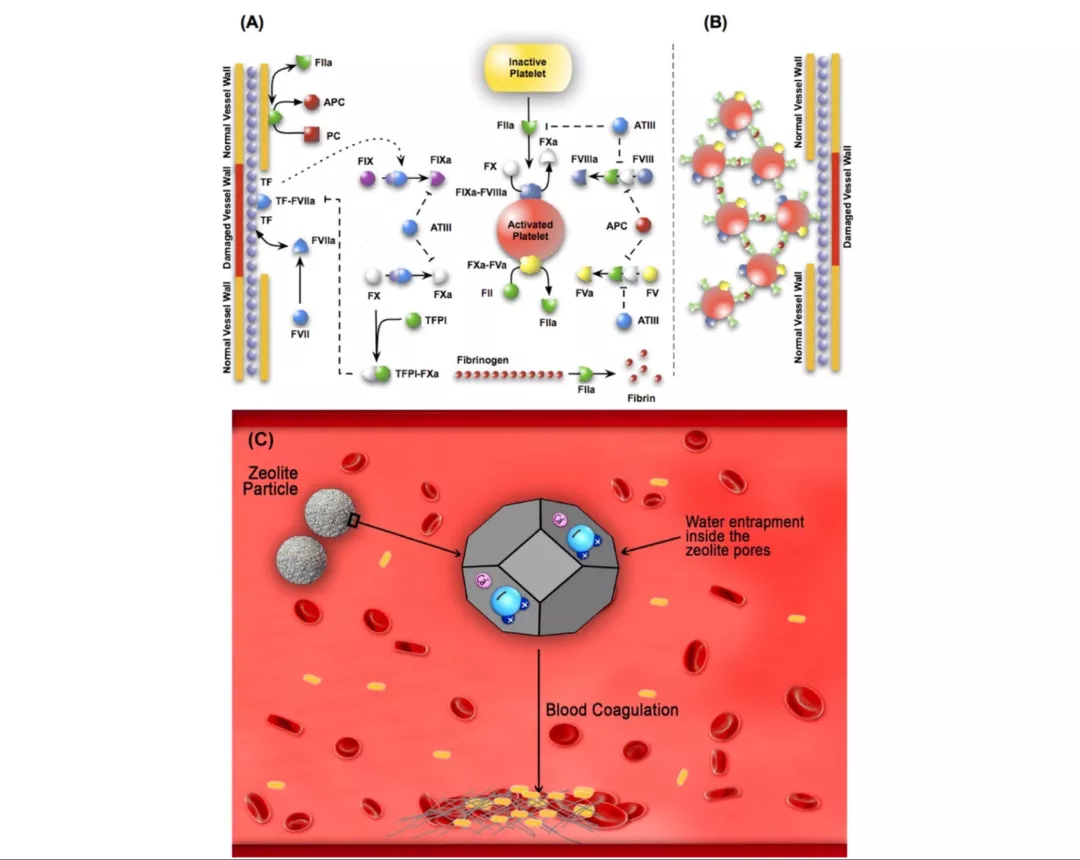 Illustration 2 Schematic of the extrinsic coagulation cascade and summary of the potential hemostatic effects of zeolite.
Tissue engineering is a developing interdisciplinary subject. "Zeolite" is widely used in tissue engineering due to its unique physical, chemical and biological properties. Many important research achievements have been made in wound dressings, hemodialysis, stents, antimicrobial materials, implants and coatings, removal of toxic materials, delivery of nutrients, contrast agents and dental applications. However, the "zeolite" material covers a wide range of basic sciences. With the continuous development of tissue engineering, it will face new opportunities and challenges. It takes in-depth and expanded basic and application studies, especially clinical studies.
References:
[1] Zarrintaj P, Mahmodi G, Manouchehri S, et al. Zeolite in tissue engineering: Opportunities and challenges. MedComm. 2020;1–30. https://doi.org/10.1002/mco2.5
[2] Bacakova L, Vandrovcova M, Kopova I, Jirka I. Applications of zeolites in biotechnology and medicine—a review. Biomater Sci. 2018;6(5):974-989.
[3] Pourshahrestani S, Zeimaran E, Djordjevic I, Kadri NA, Towler MR. Inorganic hemostats: the state-of-the-art and recent advances. Mater Sci Eng C. 2016;58:1255-1268.